Schedule of the International Summer School 2022

22nd of June - on-line meeting all participants on the TEAMS platform  (for Polish students on June 17th)

26th of June - Trip to Wagrowiec in Poland. Expected arrival at 18:00

From 27th of June field trips to Lake Durowskie

After dinner 29th of June, drive to Poznań

From June 30 to July 2 - classes at Collegium Biologicum
Organizers: prof. Beata Messyasz and Ryszard Gołdyn
IP entitled "Summer School - Ecological state of the lake during restoration measures" will be held in Wagrowiec and in Poznań. The Durowskie Lake situated in Wagrowiec is restored with unique and complex method, to fulfilling the requirements of the WFD. One of the main aims of this IP will be study by students these new restoration technics and their influence on ecological state of the lake.
New methods will be used, which are required by WFD for evaluation of the response of restored ecosystem to the human impact. Practical testing of these methods, both during field research and in the laboratories and later discussing of the obtained results will give students new experience, which can be used in their future professional acivity.
Other objective of IP will be the opportunity for students from three countries to discuss and compare many questions and problems important for young people on national and international level. The staff will have opportunity to get the new educational experience, which can be transferred and used in their Universities.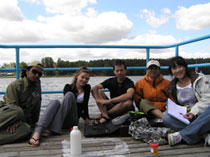 All students will be divided on 6 target groups, involved simultaneously in the field and laboratory research under the care of 9 specialists. Every group of students will be in turn engaged during the field and in lab activity in 6 topics, i.e. the macrophyte composition and the macrophyte-based index of ecological state of the lake, the taxonomic composition, number and biomass of phytoplankton, the diatom index of periphyton, the composition and biomass of benthic macroinvertebrates, the composition and density of fish assemblages, physico-chemical variables of water quality and hydrological conditions of river flowing to and out of the lake, lake management - approaches to improve stakeholder participation. Afterward, every group will be responsible for elaboration of the result of one topic and for presentation these results during final seminar, in a front of the Mayor of Wagrowiec and other representatives of local authority and community.
Outputs of the IP will be final report consisting of six chapters, each elaborated by one group of students, and the oral presentation of results during last-day seminar. The reports and photos as well as many other informations about the Summer School will be published in the Internet on the website of the AMU Faculty of Biology. Information on this Summer School will be also accessible on websites of CAU, UAIC and town authority of Wagrowiec.